(EXPLODING) CIGARS ALL AROUND!
Mood:
celebratory
Hello, strangers!
I know it's been crickets for the most part around here for the last few months...but to say that things have been crazy in our non-musical lives woiuld be an understatement. It's been a pivotal summer, indeed. The happiest news by far is that the stork made a visit to our own Ms. Kitty Heels and Mr. Kitty Heels, Spleen Eck of
Lilac Ambush!
Now, we all do the obligatory, polite goo-gooing over new babies, I know...but if you ask me, the truth is that most of them look like Mr. McGoo posing for a jail-booking-mug-shot. Not little C. Thurston! It is plain from his adorable expression that he's going to be a character. Get a load of him!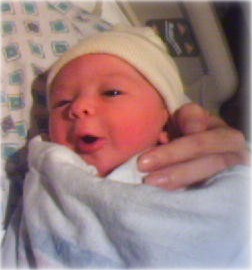 All together now: "Awwww!" Someone suggested that he looks like a little glowworm...
I think so, too! In the most flattering way.
Ms. Kitty is doing well and says she plans to be a "rock n' roll mama". What I am wondering is if someone beat me to the punch on my (un)original idea of a tiny saw as a baby gift...
Looks like our next thing together is a performance at the Boston Public Library on November 3rd. Stay tuned for details!